What image comes into your head when you think of a personal trainer? Muscular, toned, fit and certainly not overweight. Katy is not your typical Personal Trainer.  She is the one that has had the courage to dismiss the social norm of a trainer, get educated and put herself forward as a person that can help you achieve your fitness and weight loss goals.  Still on a weight loss journey herself, she is realistic about the ups and downs that come will starting at a weight of 27 stone.  Losing over 14 stone is no easy task.
It all started in 2008, Katy was pregnant with her son and during the delivery she was unable to get an epidural due to here weight, and was put to sleep instead.  This was the first time she realized there was an issue.  "In my head, it was normal to be overweight".  One vivid memory she talks about is that when her son was small, he had fallen on the floor, she tried to lift him up by the arm as she couldn't bend down due to her weight.  That didn't work so she decided to slide off the sofa in order to help him and realized that she couldn't get up, waiting a few hours until her husband came home from work to help her off the ground was a big turning point.  "That's when I knew I needed to change".  I hate doing tricep dips now but now I know that is what I need to do to get myself off the ground!!"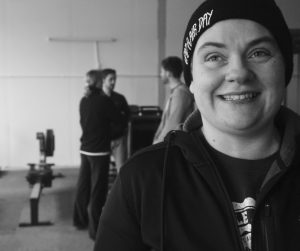 So, it began with starting what she now knows to be "fad dieting".  "From lipotrim to slimming tablets, shakes, magic drops and laxatives I have tried them all and none of them work". Her determination got her to approximately 22 stone but having never learnt to eat properly all the weight went back on.  It was a vicious cycle and eventually ended up in resorting to making herself sick and in a cycle of abusing laxatives and her body.  It was all very extreme and very painful. "I was starting to realise that it was all having a negative effect on my body and then I found slimming world".
At 23 stone Katy started her journey with slimming world and over the next 8 years, it was the group motivation, companionship and structure that assisted with her weight loss however she was still relying on quick fixes in order to make weight goals and enjoyed seeing these massive losses with sometimes were short-lived.  Realising she had an issue with binging she tried hypnotherapy which helped to focus the mind and eventually led her to the gym.  "I found the gym and realized that I enjoyed training.  This became the new addiction".
Last year has been a difficult one for Katy due to lots of family issues which has been very overwhelming for her.  Deciding to sign up for the personal trainer course with Sports Fitness Academy allowed Katy to focus on herself and move forward in her life. As she paid the deposit for the course, Katy really didn't feel that she was going to get through it and actually attain the qualification. "I need to have more faith in myself.  I have now completed the personal training course and I still don't believe I am personal trainer as I don't look like one.  When you look at me you don't see a personal trainer".  Joining the course was a massive leap forward for Katy and she now knows that she needs to work on believing in herself like others in her life including Nicky from Studio N Fitness, Bridget from FPI gym and those closest to her, her children and her partner Colin.
Joanne has been a huge inspiration to me, has never judged me and encouraged me every step of the way and I have learned so much from her.  This has been the best thing I have ever done for myself"  Katy has put massive effort into her studies through the whole duration of the course I am very proud of her achievements.
She may not look like your typical personal trainer but believe me she is an amazing personal trainer.